GLOBAL WELFARE HR SOLUTION PVT. LTD.
Global Welfare Hr Solution Pvt. Ltd. one of the leading recruitment manpower agency in Nepal, established in 2007 under the Company Act 2053 of Nepal Government Registration No. 67840/074/075 and Department of Foreign Employment. Government of Nepal with and License No1320/074/075 And Under Nepal Association of Foreign Employment Agencies (NAFEA) member ID no.1078. It was established by the leading experts in the field of recruitment service. Since the establishment, the company has gained vast experience in the field of recruitment which has enabled it to be one of the reputed company in the country. Within the short period of time company has owned remarkable achievement and has ensured the total satisfaction of many renewed companies and organization inside the country and overseas. This manpower win award by Nepal Government for Best recruitment Service In Nepal and Get Nepal top 5 manpower. Global Welfare Hr solution Pvt.Ltd has dispatched thousands of professional (skilled, semi-skilled and unskilled) from Nepal to Qatar, UAE, Saudi Arabia, Kuwait, Malaysia, East Asia,Cyprus ,Poland, Romania and other European Countries.Its highly Qualified professional makes our clients get maximum output at minimum cost and effort. Our clients can rely on us. We have never failed them in the past and will make it equally easy for them in future. We complete in the employment service industry by offering a complete range of recruitment service.
MESSAGE FROM CHAIRMAN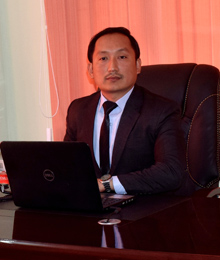 Dear  Clients,
Welcome to Global Welfare Hr Solution Pvt.Ltd. which is rendering service in the field of manpower recruitment to the global market. Initially, we should like to express our sincerest gratitude to our valued clients, our business associates, and to all well- wishers alike and hereby reiterate our commitment to quality for years to come. This is because we know that only through quality in our work deliveries will we be able to see our future in the brightest spectrum of colors, without your support however this will be very difficult to achieve.
Our commitment to quality nurtures trust which in turn takes us to a long lasting business relationship with you. Your Trust, Recognition and Confidence will eventually result in the successful spread of profit to both the workers and their employers Global Welfare Hr Solution Pvt.ltd. within a very short period of time indeed has become one of the premier human resource consultants in Nepal.
Our firm has always believed in the philosophy of quality and our motto is to delight our customers with "Total Satisfaction" in both the personal and professional arenas. Furthermore, we are committed to continue with and uphold this distinction.
We thank you for visiting our office and the interest you have shown in our organization. We invite you to experience our personal and friendly service, which we are sure, will delight you.
Thank you!
Kind Regards
Dhruba Raj Rai
Chairman
TESTIMONIALS
I would like to thank Globalwelfarehr Solution for their wonderful recruitment.
Thanks to Globalwelfare HR solution and their wonderful team member for their support
Thanks to Globalwelfare HR solution. Today I am working at Qatar airways as a managing director.
Thank you so much for providing good and best service to us. We appreciate for all this. I highly recommend this Global Welfare hr Solution nepal agency for the best service they provide also I would like to thank Mr. Dhruba Raj Rai and his Wonderful Team for the best service. Wish you all the best.
WE CAN PROVIDE TO THE CLIENTS